Audiences rose to their feet recently to applaud Utopian Academy for the Arts Middle School's three-day run of "Willy Wonka Jr.," a family musical based on Roald Dahl's award-winning children's book "Charlie and the Chocolate Factory."  
Students performed the musical before a packed house at the L.F. Stevenson Black Box Theatre from Dec. 7-9. More than 70 scholar artists—the most students in a UAFA production onstage and backstage—participated in show doing everything from dancing, acting, and singing to managing props and technology for the production.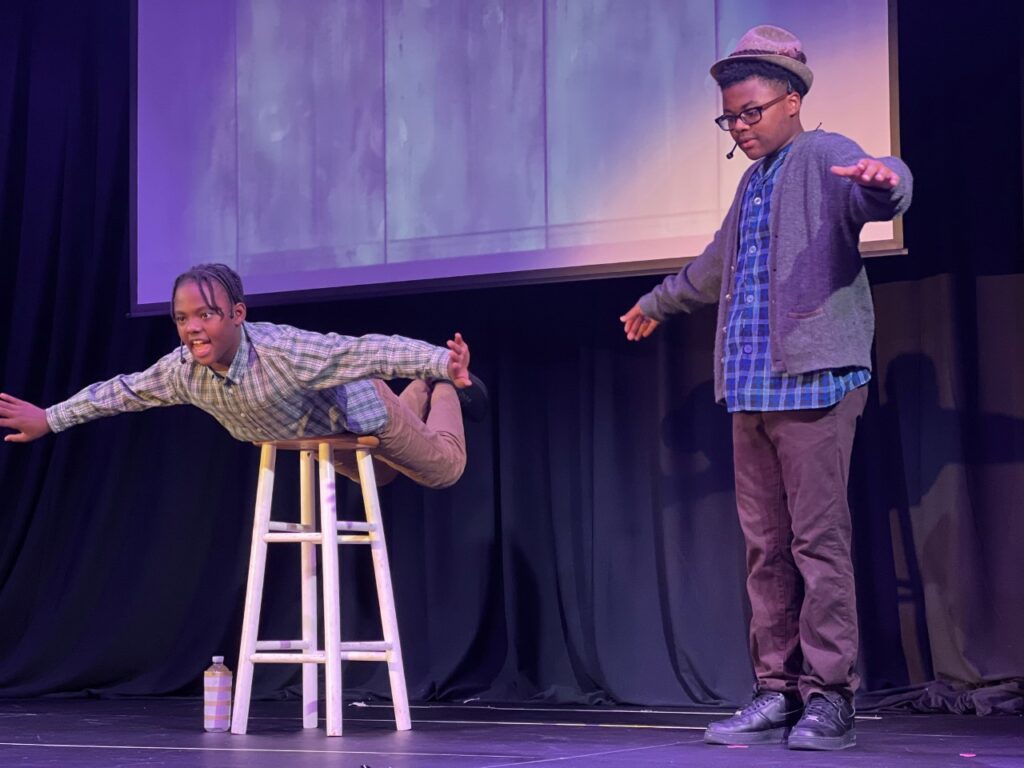 "We make dreams possible at Utopian Academy," said director Fredena Williams, a professionally trained opera vocalist and award-winning stage actress who leads the theater program at UAFA Middle. "The show was 85 percent run by Utopian academy scholars. We train people in the industry so they can go out and work. A ninth-grade student from Utopian Academy High School managed more than 150 cues for the performance—every sound cue, every light cue, every change of the projection screen. " 
The plot of "Willy Wonka Jr." focuses on a world-famous reclusive candy man named Willy Wonka who announces that he will offer five children who find a golden ticket in one of his candy bars the tour of the lifetime through his secret chocolate factory. One ticketholder will also win a lifetime supply of chocolate. A sweet-natured child of modest means named Charlie Bucket wins the golden ticket against all odds.  
He and his fellow tour members —the spoiled Veruca Salt, the chocolate-craving Augustus Gloop, the gum-chewing Violet Beauregarde and television fanatic Mike Teavee — spend a day traveling with the mysterious and marvelous Willy Wonka and his crew of Oompa Loompas through the fantastical factory. The children encounter marvelous sights and tastes along the way, including giant nut-selecting squirrels, fizzy lifting drinks, Everlasting Gobstoppers, and a chocolate river. But each stop proves to be a test, as only one can go on to win the Wonka prize. 
"Willy Wonka Jr." was the first musical to debut in the L.F. Stevenson Black Box Theatre, which opened last year.  
Williams', the show's director, worked with the ensemble of middle and high school students for several months preparing them for the production. She has a degree from the New England Conservatory of Music and has appeared in film, television, commercials, and in off-Broadway musicals. Williams also has performed with Patti LaBelle, Natalie Cole, and is presently starring with the Canadian and Las Vegas tour of "Menopause the Musical," appearing in more than 1,200 shows 
The production also received support from UAFA Middle's new associate deans of arts, Crystal Marsh, who provided choreography for the show as UAFA's dance instructor, and Jerel Jefferson, who helped students learn the songs as UAFA's music instructor. Michael Rosemond, UAFA's coding and animation instructor, served as "Willy Wonka Jr.'s" technical director. 
On the final night of the show, every student took a bow in the spotlight, from the main cast to the backstage crew. Williams also applauded the parent supporters. 
"You guys were here; you picked up your scholars," Williams said. "You made sure that they kept their grades up and kept them motivated. We can't thank you enough for all that you do."  
UAFA Middle's scholar artists were excited about performing in the show. Seventh grader Fawaz Jelli landed a prominent part in the production. "I played Charlie; this is my first lead role," Jelli said. "I really enjoy acting. I think people loved the show." 
Dahl's "Willy Wonka Jr."  was adapted for the stage by artists Leslie Bricusse and Timothy Allen McDonald. The show featured lyrics and music by Leslie Bricusse and Anthony Newley, including beloved songs "The Candy Man," "I Want It Now!", and "Pure Imagination" from the classic film "Willy Wonka and the Chocolate Factory." The musical production was made possible through a special arrangement with New York City's Music Theatre International (MTI), one of the world's leading theatrical licensing agencies which grants theatres from around the world the rights to perform the greatest selection of musicals from Broadway and beyond. Founded in 1952 by composer Frank Loesser and orchestrator Don Walker, MTI is a driving force in advancing musical theatre as a vibrant and engaging art form. 
MTI works directly with the composers, lyricists, and book writers of these musicals to provide official scripts, musical materials, and dynamic theatrical resources to over 70,000 professional, community and school theatres in the U.S. and in over 60 countries worldwide. MTI is particularly dedicated to educational theatre and has created special collections to meet the needs of various types of performers and audiences. MTI's Broadway Junior™ shows are 30- and 60-minute musicals for performance by elementary and middle school–aged performers. 
"It takes tremendous imagination to communicate the whimsy and wonder of Willy Wonka's factory, and it requires great sensitivity to deliver the musical's key message on the importance of good character," says Drew Cohen, President of Music Theatre International (MTI). 
"We want to applaud the 'Willy Wonka Jr.' cast and crew and hope Utopian Academy's audience will outnumber all the Oompa Loompas in Willy Wonka's factory.".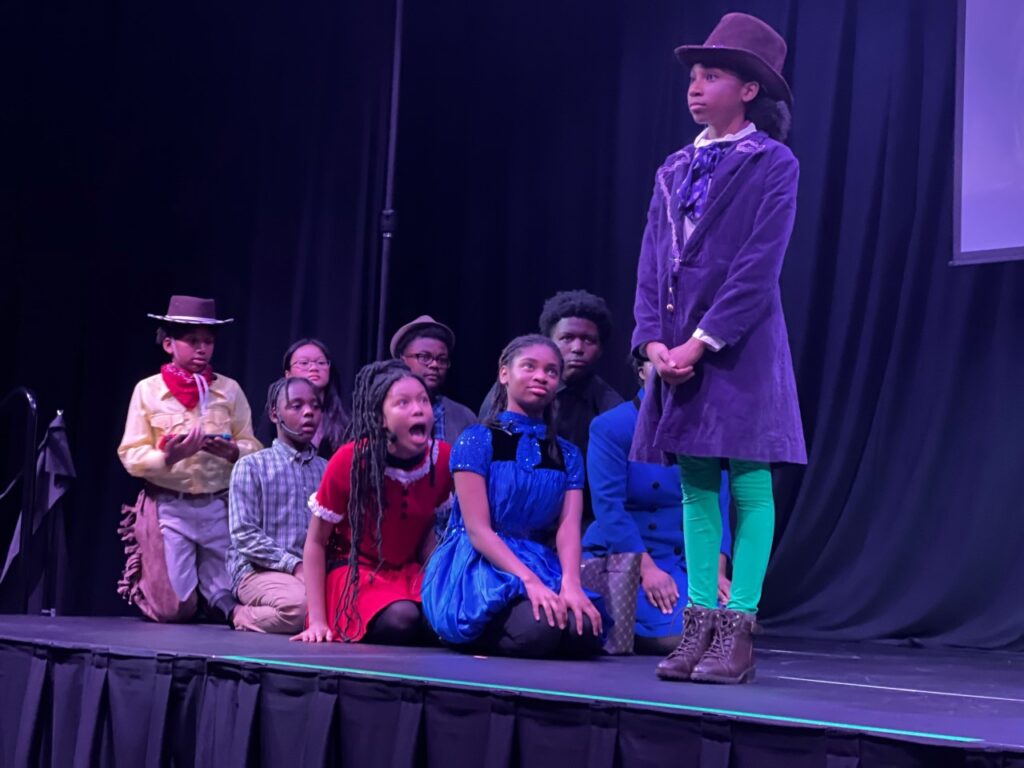 The Cast of "Willy Wonka Jr."  
Willy Wonka……………………………………………………………….. Raven Brooks (8) 
Candy Man ……………………………………………………………..Jayden Gladmon (7) 
Charlie Bucket……………………………………………..Fawaz Jelli (7) & Jailen Bryant (6) 
Grandpa Joe………………………………………………………..Raja Green-Hornes (8) 
Grandma Georgina ……………………………….. Allyssa Griffin (8) & Ciara Mitchell (8) 
Grandma Josephina………………………Janiyah Hamilton (7) & Jordin Newsome (8) 
Grandpa George…………………………………………………………Daylan Murphy (6) 
Mr. Bucket…………………………………………………………………….Jonah Slade (9) 
Mrs. Bucket …………………………………………………………. Princess Balacios (6) 
Matilda …………………………………………………………………….Gavriella Leaks (6) 
James ………………………………………………………………………… Ethan Brooks (6) 
Phineous Trout………………………………………………………….Neveah Phillips (8) & Alyssa Osgood (8) 
Augustus Gloop………………………………………………………….Daylan Murphy (6) 
Mrs. Gloop……………………………………………………… Mackenzie Porterfield (8) 
Veruca Salt…………………………………….. Laila Muhammad (8) & Aiyana Walker (8) 
Mr. Salt……………………………………………………..Chaz Walker (8) & Jonah Slade (9) 
Violet Beauregarde ……………………………………Marley Lowe (8) & Sylver Sprott (8) 
Mrs. Beauregarde …………………………………………………….. Chenzira Hardy (8) 
Ms. Teavee……………………………………………………. Amira Gaines (8) & Lana Le (7) 
Mike Teavee…………………………………….. Maddox Madden (6) & Leroy Liggons (6)